One of my favorite PEF yearly traditions is the Titanic dinner thrown for the freshmen. Jamie Rankin, a professor at the university (and pianist for PEF and for Westerly, and marathon runner, and gourmet chef) invites groups of freshmen over to his home for an amazing ten-course meal, based on the last meal served on the Titanic before it sank. And wow, is it a decadent meal!
It's also a really great way to help freshmen get to know each other a bit better -- after all, you're at the table with each other for upwards of five hours! :) Jamie can handle 10 at his table, and there are sometimes dinners where there are fewer freshmen than that, so he invites some of the younger staff to fill in the seats... So David and I have had the honor of being guests to this dinner for five years running now. :) Last Saturday was the first Titanic dinner of 2009, with five freshmen, Aime and Greg (another staff couple), and the two of us -- and fun times were had by all!
Just wanted to upload pictures of the food (the ten courses, plus extras) for posterity...
Apéritif: Sparkling cider with dried cranberries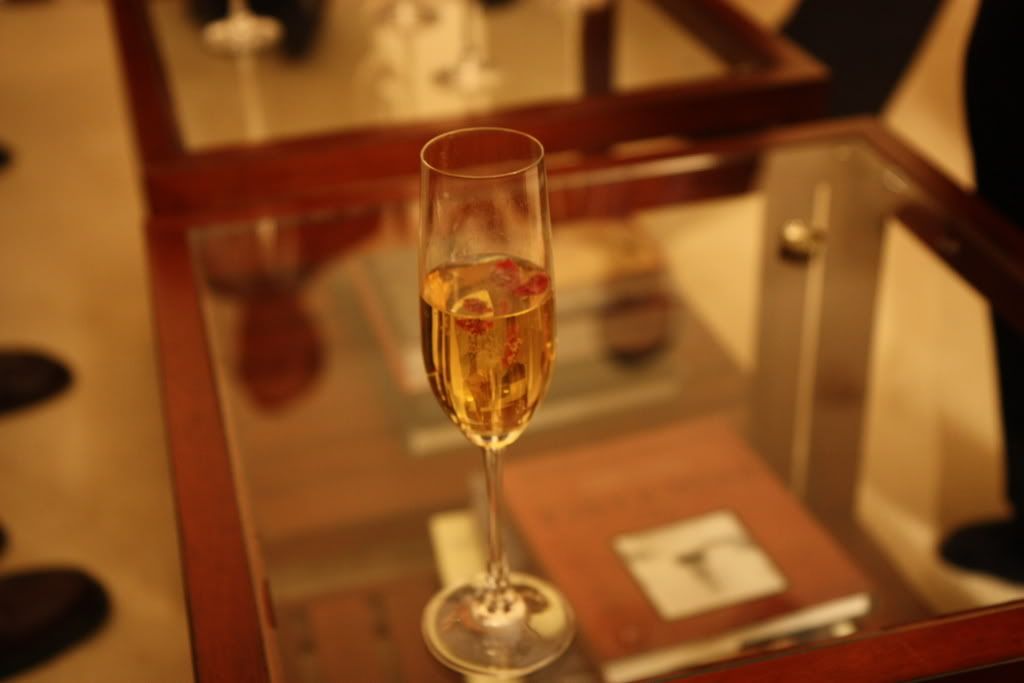 Individual salt cellars at each place setting
Course 1:
Chèvre Soufflé
Course 2:
Tarragon Pea Soup and Beet Vichysoisse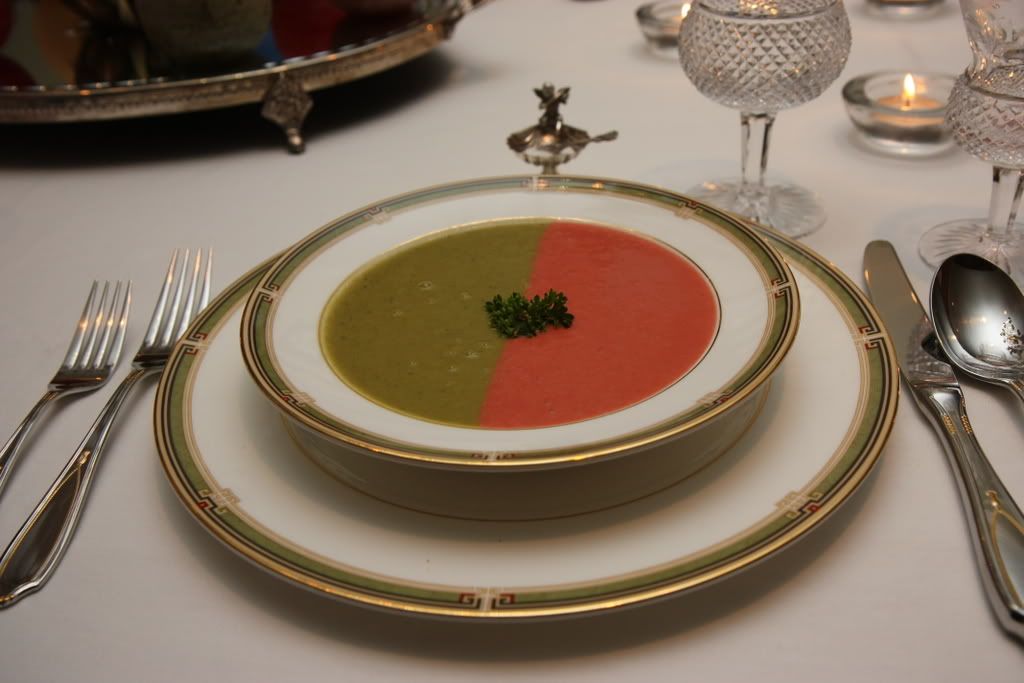 Course 3:
Salmon with Mousseline Sauce
Course 4:
Chicken Lyonnaise
Course 5:
Merlot Sorbet with Frozen Sugared Grapes
Course 6:
Beef Wellington with Wild Rice and Haricots Verts
Course 7:
Spring Mix Salad with Glazed Walnuts, Bleu Cheese and Dried Cranberries
(I was so into the meal at this point that I forgot to take a picture of the salad before I started digging in!)
Course 8:
Assorted Cheeses, Crackers and Grapes
(with the maestro himself explaining the cheese course)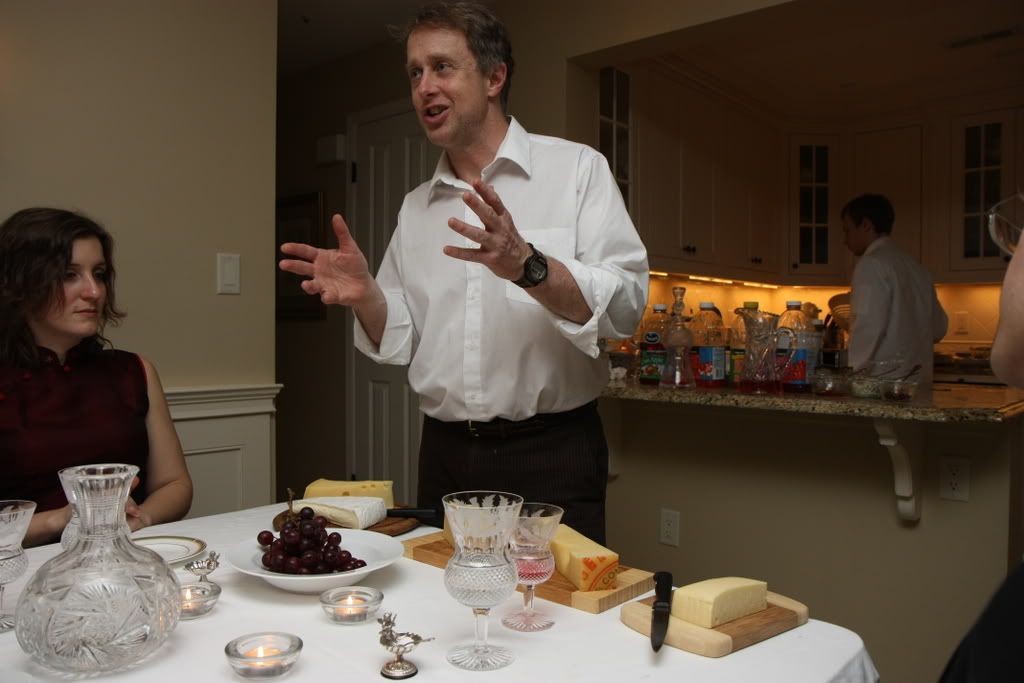 Course 9:
L'Orange Surprise
Course 10:
Tea, Lemon Shortbread, and Assorted Chocolates
Snuffing the candles in the chandelier
(that's right,

real candles

in the chandelier!)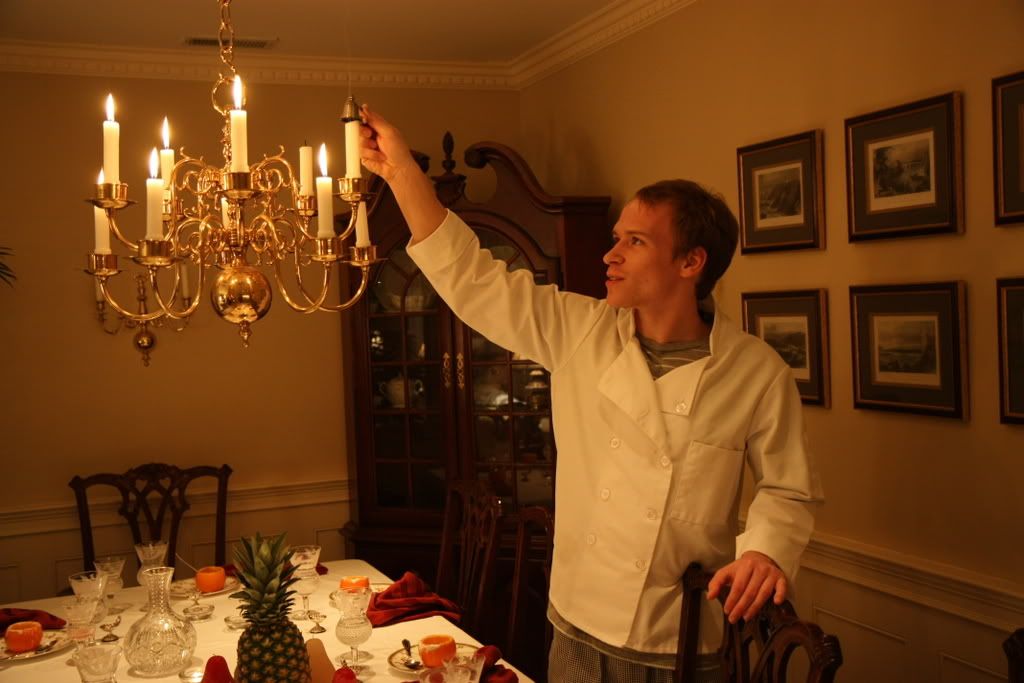 Freshmen!