Thanks to the generosity of my dear friend and old college roommate, Diana, I got to go to a cooking class at
Roy's
, a fancy Hawaiian fusion restaurant in Philly, this afternoon!
It was really more of a demonstration than a cooking class -- we didn't actually get to cook anything ourselves. But we got to watch (and taste individual elements) as the restaurant's two sous-chefs took us through four amazing courses... It was like being an audience member for a Food Network show! So fun! :)
Eric and Mariah, the sous-chefs
And really, it made more sense to sit back and watch the demonstration, rather than get into the nitty gritty details of preparing the dishes ourselves... Especially since most of the dishes required multiple
days
of prep time. That's right,
days
. For instance, the short ribs that made up half of our surf and turf entree required marinating in a chicken and veal stock reduction that takes four days (and 150 pounds of veal bones, and 100 pounds of chicken bones) to prepare. And the shrimp for the "light and easy" salad was conveniently already deveined and poached in a complex stock, and the lettuce (three different types!) had already been sliced into 1/8th-inch thick pieces...
So I'm glad we got to watch the final steps of each dish -- and to eat the fruits of the sous-chefs' labor!
Our four courses: (1) Lakanilau Sushi Roll - crab dynamite, tempura asparagus, Kobe beef; (2) Roy's Classic Maui Waui Salad - Shrimp, Avocado, Caper-Lime Vinaigrette; (3) Island Style Surf and Turf - Sake-Teriyaki Glazed Salmon and Honey Mustard Grilled Short Rib; and (4) Melting Hot Chocolate Souffle - Flourless Chocolate Cake with a Molten Hot Center served a la Mode.
Remember: you can click to enlarge!
Believe me, it tasted just as good as it looks and sounds. :)
And it was so much fun to watch the demonstrations! Below: (1) torching the Kobe beef on top of the sushi rolls to sear and crisp; (2) plating the shrimp salad; (3) drizzling butter sauce over the short ribs and mashed potatoes; and (4) a couple other attendees watching the fun.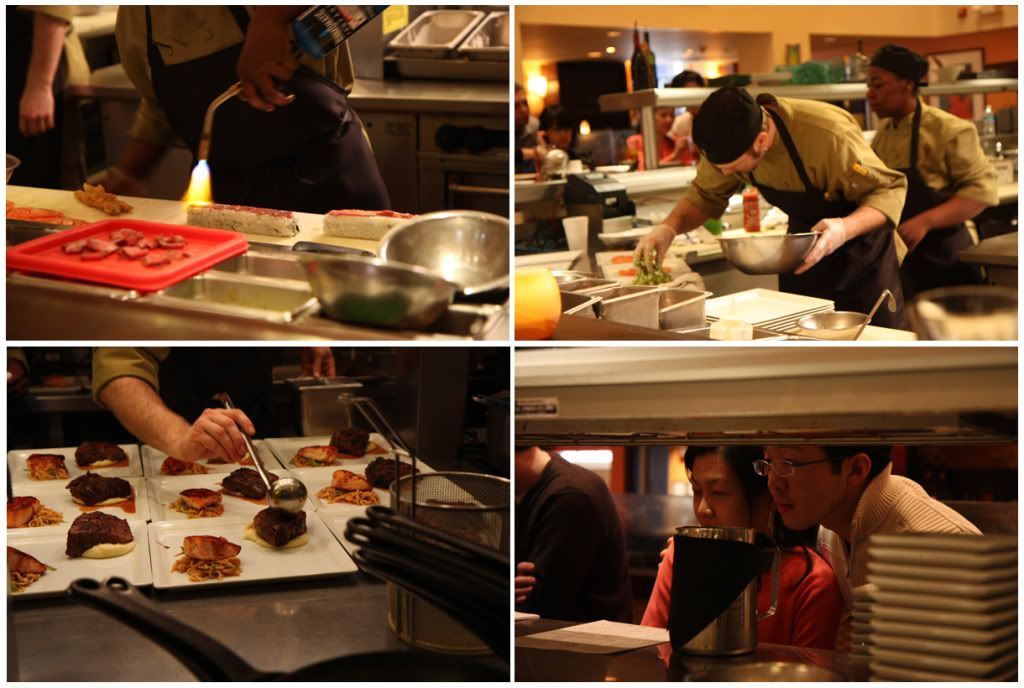 Diana, thank you so much for the really fun afternoon in the city with you! You know you don't have to bribe me with amazing dinners to get me to hang out with you -- but I'll never say no to this kind of outing. :)