...so let's reminisce about the good ol' days of summer, by posting some never-before-published pictures!
(I wish I could say that this was part of some grand plan to extend our summer vacation experiences, but really, I've just been too lazy to upload these pictures from our camera until tonight...)
Family Reunion at the OBX
Back in August, we took a week's vacation with David's extended family to celebrate his grandparents' 60th wedding anniversary. It was a beautiful week of sunshine, relaxing, and time with family, down in Corolla, NC.
Sixty years married! Grandpa and Grandma McMillan, opening their anniversary gift from their children and grandchildren -- a digital photo frame.
The beach house we rented for the week; the pool in the backyard, where the more adventurous cousins played volleyball (Miriam, Philip, Donald and Kyle)



David's parents admiring a pretty good sand pyramid (complete with sphinx!); David's dad, ever the biologist, examining a new specimen



Sunset on the dunes; us at Kitty Hawk
(that's right, North Carolina was first in flight, not Ohio!)



PEF
Beach Retreat
Some of our favorite pictures from the annual beginning of the school year retreat at Ocean City -- the last hurrah of summer.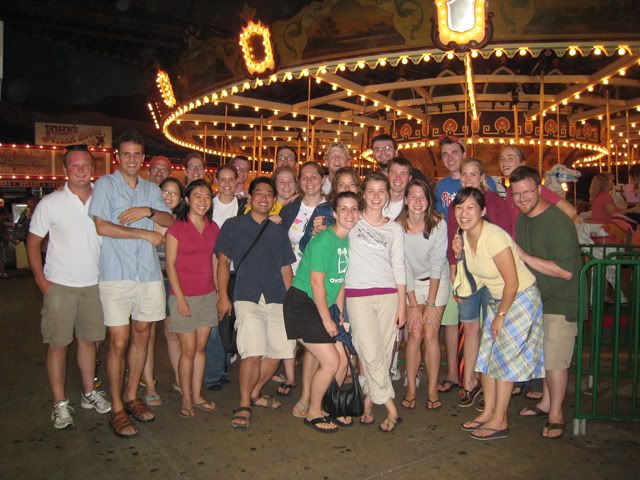 Most of the group, after riding the carousel on the boardwalk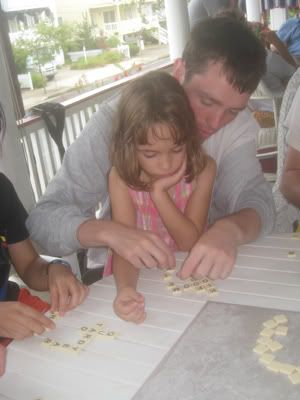 Huge waves on the beach; students playing Bananagrams on the front porch;
Lydia, age 5, Bananagrams adviser to the stars

The non-undergrads on the retreat -- staff, staff spouses/family, graduates

It's only November, and I already can't wait for it to be summer again...