It's been a busy, busy week... But now that we've got some breathing room, it's definitely time to post some photos from last weekend's events.
Every year for Good Friday and Easter (except last year, when Easter fell over spring break...), the evangelical fellowships on campus come together for a weekend of services commemorating the death and resurrection of Jesus Christ. It's always such a beautiful weekend -- I love each and every one of these events.
Good Friday Service
On Friday night, we all gathered in the Rockefeller Common Room for the annual Good Friday service. It's a more somber service, focusing specifically on the crucifixion -- which is, honestly, something that I don't meditate on often enough.
The service is full of beautiful music...
...readings from scripture that walk you through the last hours leading up to the crucifixion...
...and a homily. This year, we had Ross Wagner, a professor at Princeton Theological Seminary and an elder at Westerly, who spoke on the shame that was borne by Jesus on the cross.
Tons of people came out to the service, including several grad students from our small groups -- it was so good to worship with all of you!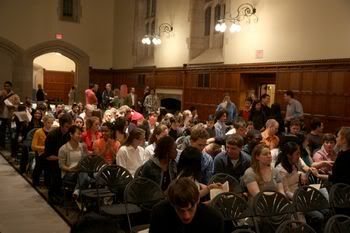 Easter Sunrise Service
At 6:30am on Easter Sunday morning, as the sun was rising over campus, about 50 of us gathered for a sunrise service on Frist South Lawn.
The service began with a trumpet call to worship...
...and continued with singing...
...readings from Scripture telling the story of Christ's resurrection and our resultant eternal hope...
...and communion.
A surprising number of students were there, despite the early hour, and a surprising number of women were wearing pretty Easter dresses, despite the chill of the morning!
And then we all headed away from the sunrise, on to the baptism service.
Easter Baptism Service
Eight of our brothers and sisters were baptized on Easter Sunday -- praise God!
Bill was giving final instructions to the eight about to be baptized as the rest of us filed in...
...and here's a shot of about half of the crowd that gathered to witness the baptisms. There were so many people there to support their brothers and sisters!
Bill led off with a short talk on the call to baptism, and the importance of this sacrament in the Christian life.
Then each of the eight being baptized gave testimony to the work God has done in their lives...
...the three leaders of PEF and Manna entered the pool...
...and each of the eight were baptized in turn.
Congratulations, Andrew, Alan, Ivy, Sumin, Jeff, Eric, Beza, and Karin!
Easter Luncheon at the Beesons'
And then, we capped off our weekend of Easter celebrations at the home of John and Angel Beeson. They invited tons of people from Westerly into their home for a fabulous luncheon spread, and for Easter egg fun!
We got to hang out with dear friends...
...and then filled plastic Easter eggs with candy and hid them for the little kids...
...who then had a blast running around the yard finding them all!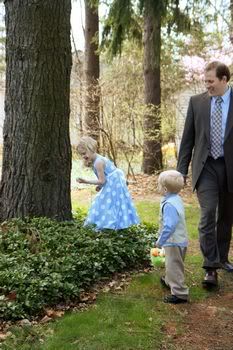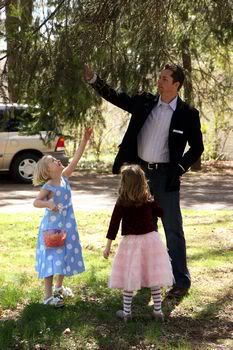 Thank you, Beesons, for a wonderful Easter afternoon!