Another Christmas tradition we've started for our little family is getting one special ornament every year. So far, we've managed to find a meaningful ornament each year, which somehow encapsulates the happenings of that year.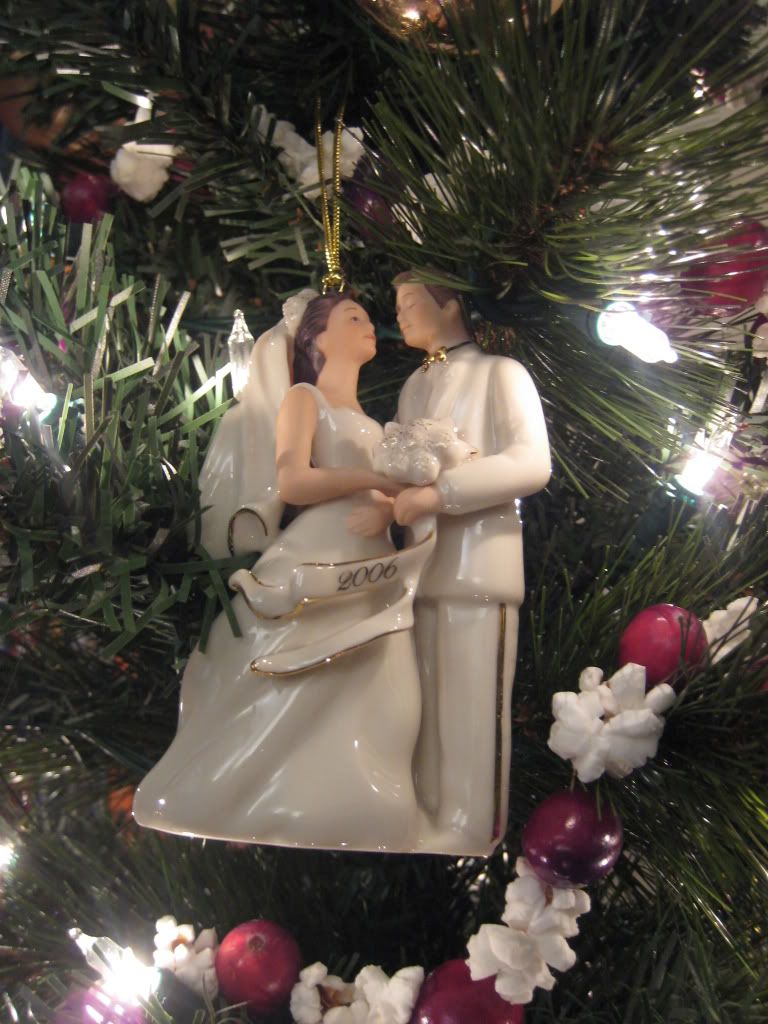 For
2006
, our first Christmas together, the year of our wedding, the choice was obvious. And when I saw this beautiful little ornament at the Lenox
outlet
, for
25% off
, I knew this was the one. The ornament that would be the start of our new family's annual Christmas tradition. And hey, it kind of looks like us, too! Or at least, it looks more like us than the only other bride and groom option available from Lenox -- which was blond.
For
2007
, the year I graduated from law school, we celebrated the end of an era -- no more commuting to New York three days a week! No more getting further and further into law school debt! An NYU Law ornament seemed fitting to commemorate this new chapter in our lives together. David really did live through the law school years with me, driving me to and from the train station every day, being my sounding board for legal concepts I was trying to get my head around, listening to my Bar/Bri bar review iPod lectures with me -- so this ornament memorializes a joint effort!
This year
, we didn't really have any huge, defining, milestone moments in our marriage. It was a year of settling into our jobs and continued, gradual growth in our lives together. We weren't sure what kind of ornament would best encapsulate this year of our marriage. And then we saw this guy, and knew this was it:
It's a little brass model of the FitzRandolph gates, the gates that stand in front of Nassau Hall. These are the gates that seniors walk through on graduation day, symbolizing their exit from the nurturing arms of Princeton out into the real world. Tradition holds that if an undergrad is so bold and foolish as to walk through these gates, he will not graduate from Princeton. (Yeah, so, I totally broke that tradition too many times to count, especially on Communiversity weekend...)
So yes, David and I are both Princeton graduates. But this particular piece of Princeton tradition is fitting for 2008. This year, we realized that we had settled down here in Princeton, and made this little town our home. It's easy to think of Princeton as a transient locale, especially since the average resident lives here less than four years. For the first couple years of our marriage, we'd assumed that we would live in Princeton for a little bit, and then move on -- to Philadelphia, for David to go to seminary, and then to some other distant land, wherever David received a call to a church. But we've come to realize this year that we've really put down roots here in town. David still plans to go to seminary, but he'll likely take classes on a part time basis while continuing to work for PEF. My job situation is also really ideal -- being in a branch office of a large firm means that I get interesting and challenging work, but a much more relaxed office culture. We've also been so blessed with a rich community of friends here.
So the FitzRandolph gates ornament will forever remind us of 2008 -- the year we became townies. :)